The Division of Genitourinary Pathology at NewYork-Presbyterian/Weill Cornell Medicine features the proficiency of full-time pathologists with dedicated expertise. Our pathologists have completed fellowship training at the top institutions around the country and are authorities in the field of genitourinary pathology, contributing numerous scientific publications to peer-reviewed journals.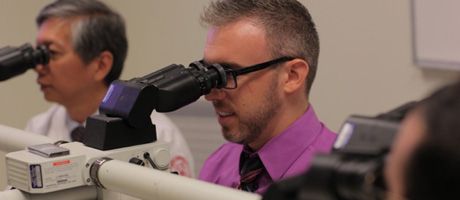 Our team offers a wide spectrum of pathologic services and evaluates more than 2,900 specimens each year from the kidney, prostate, bladder, and testis. (Non-neoplastic kidney specimens are assessed by the Division of Renal Pathology). We offer complete diagnostic services with ancillary tests, including comprehensive immunohistochemistry panels and fluorescence in situ hybridization (FISH). Weill Cornell is one of the nation's leading centers for robotic-assisted prostatectomy and cystectomy, affording our genitourinary pathologists with a large number of prostate and bladder specimens for review and further building their expertise.
In addition to patient care and research, the genitourinary pathologists are committed to educating residents and fellows. Pathology residents learn about genitourinary pathology, and Urology residents who are pursuing research interact with the Department of Pathology, especially those who are conducting prostate and bladder cancer research. A very competitive one-year Genitourinary Pathology Fellowship is offered by the Department of Pathology and Laboratory Medicine, and Translational Research Fellowships in Genitourinary Pathology attract physicians from all over the world.