September 13 - September 14, 2023
The WCM Cell and Cancer Pathobiology Symposium is a new series of two-day meetings on fundamental questions on the biology and pathology of cancer. The goal is to create a discussion-friendly type of conference, restricted to about 100-120 participants, in which interactions among speakers and attendees will spark new ideas and potential collaborations. An interactive environment is key for the success of this type of symposia.
This first symposium was focused on the metabolism of cancer and the inflammatory response that either drives tumor initiation or favors the creation of tissue microenvironments conducive to tumorigenesis and metastatic spread. Inflammation and the immune response are hot areas of research in cancer and are producing new therapies that, by harnessing the immune system's power, hold the promise of a cure or at least better treatments.
This second symposium will focus on the processes controlling cell plasticity and differentiation in epithelial cancer cells and their surrounding stroma and on how the crosstalk between these two types of cells impacts the tumor microenvironment. The acquisition of a plastic phenotype is linked to developmental processes of cell reprogramming in response to injury and inflammation and during therapy resistance. Examples of these mechanisms include the metaplasia of epithelial cells during acute and chronic inflammation or the acquisition of small-cell carcinoma/neuroendocrine lineages in different cancers in response to therapy resistance. The stroma fibroblast compartment is also reprogrammed in response to epithelial cues. It is becoming progressively apparent that the fibroblast's signaling back to the tumor epithelium impinges on its plasticity and mesenchymal features. A more complete understanding of the molecular and cellular interactions governing these processes is key for identifying new vulnerabilities potentially targetable therapeutically. These critical questions in cancer research will be presented and discussed in a very interactive environment.
Registration is now closed

.
For employees of the WCM Department of Pathology or Meyer Cancer Center, please contact Melissa Lopez at mel4007@med.cornell.edu before registering:
Location: 
Belfer Research Building
Weill Cornell Medicine
413 East 69 Street
Auditorium BB 302-A, BB 302-B, BB 302-C
New York, NY 10065
Transportation:
From John F. Kennedy/LaGuardia Airports or Penn Station/Grand Central:
Taxi Cab into Manhattan: Advise the driver to take you to 413 East 69th Street (between First and York Avenues). NYC fares are $25 - 30 from LaGuardia and $45 - 50 from JFK.
From Newark, New Jersey:
http://www.amtrak.com
From Connecticut:
http://www.mta.info/mnr/
Other:
Coffee breaks will be provided in the foyer. The use of cell phones or video/audio recording during the lectures is prohibited. Please note, participants must be fully vaccinated to attend.
Suggested Accommodation:
Guest Facility at The Helmsley Medical Tower
1320 York Avenue
New York, NY 10021
Reservations: (212) 472-8400
Toll free: (800) HM TOWER
Fax: (212) 535-8524
Courtyard (Marriott)
866 Third Avenue
New York, NY 10022
Phone: 212-317-7940
Courtyard (Marriott) (5-10 minute cab ride)
410 East 93rd Street
New York, New York 10128 USA
Phone: 1-212-410-6777
Renaissance New York Hotel 57 (5-10 minute cab ride)
130 East 57th Street
New York, NY 10022
(212) 753-8841
New York Marriott East Side (5-10 minute cab ride)
525 Lexington Avenue
New York, NY 10017
(212) 755-4000
New York Hotel Bentley (Walking distance, 7 blocks from Weill Cornell Medical College)
500 East 62 Street
New York, NY 10065
1-800-555-7555 (includes Canada)
Schedule:

Download program schedule here
Faculty:
Organizers
Maria Diaz-Meco, PhD
Homer T. Hirst III Professor of Oncology in Pathology
Professor of Pathology and Laboratory Medicine
Weill Cornell Medicine
Tel: 646-962-6695
Email: mtd4001@med.cornell.edu
Massimo Loda, MD
David D. Thompson Professor & Chair of Pathology and Laboratory Medicine
Weill Cornell Medicine
Pathologist-in-Chief, New York Presbyterian Hospital-Weill Cornell Campus
Tel: 212-746-6464
Fax: 212-746-8192
Email: mloda@med.cornell.edu
Jorge Moscat, PhD
Homer T. Hirst III Professor of Oncology in Pathology
Vice Chair for Experimental Pathology
Weill Cornell Medicine
Tel: 646-962-6696
Email: jom4010@med.cornell.edu
Speakers:
Himisha Beltran
Dana Farber Cancer Institute
Maria T. Diaz-Meco
Weill Cornell Medicine
David Goodrich
Roswell Park Cancer Center
Jeffrey Hildesheim
National Cancer Institute

Raghu Kalluri
University of Texas MD Anderson

Michael Karin
University of California San Diego

Ekta Khurana
Weill Cornell Medicine

Ken Lau
Vanderbilt University Medical Center

Ernst Lengyel
University of Chicago

Massimo Loda
Weill Cornell Medicine

Jorge Moscat
Weill Cornell Medicine

Peter Nelson
Fred Hutchinson Cancer Center

Ellen Pure
University of Pennsylvania
David Rickman
Weill Cornell Medicine

Montserrat Rojo de la Vega
Cancer Cell
Charles Rudin
Memorial Sloan-Kettering Cancer Center

Charles Sawyers
Memorial Sloan-Kettering Cancer Center

Robert F. Schawbe
Columbia University

Michael Shen
Columbia University Irving Medical Center

Mara Sherman
Memorial Sloan Kettering Cancer Center

Shannon J. Turley
Genentech
Requests for further information should be directed to:
Melissa Lopez
Symposium Coordinator
Department of Pathology and Laboratory Medicine
Weill Cornell Medical College
1300 York Avenue, Room C-302
New York, NY 10065
(212) 746-8169
mel4007@med.cornell.edu
Symposium Poster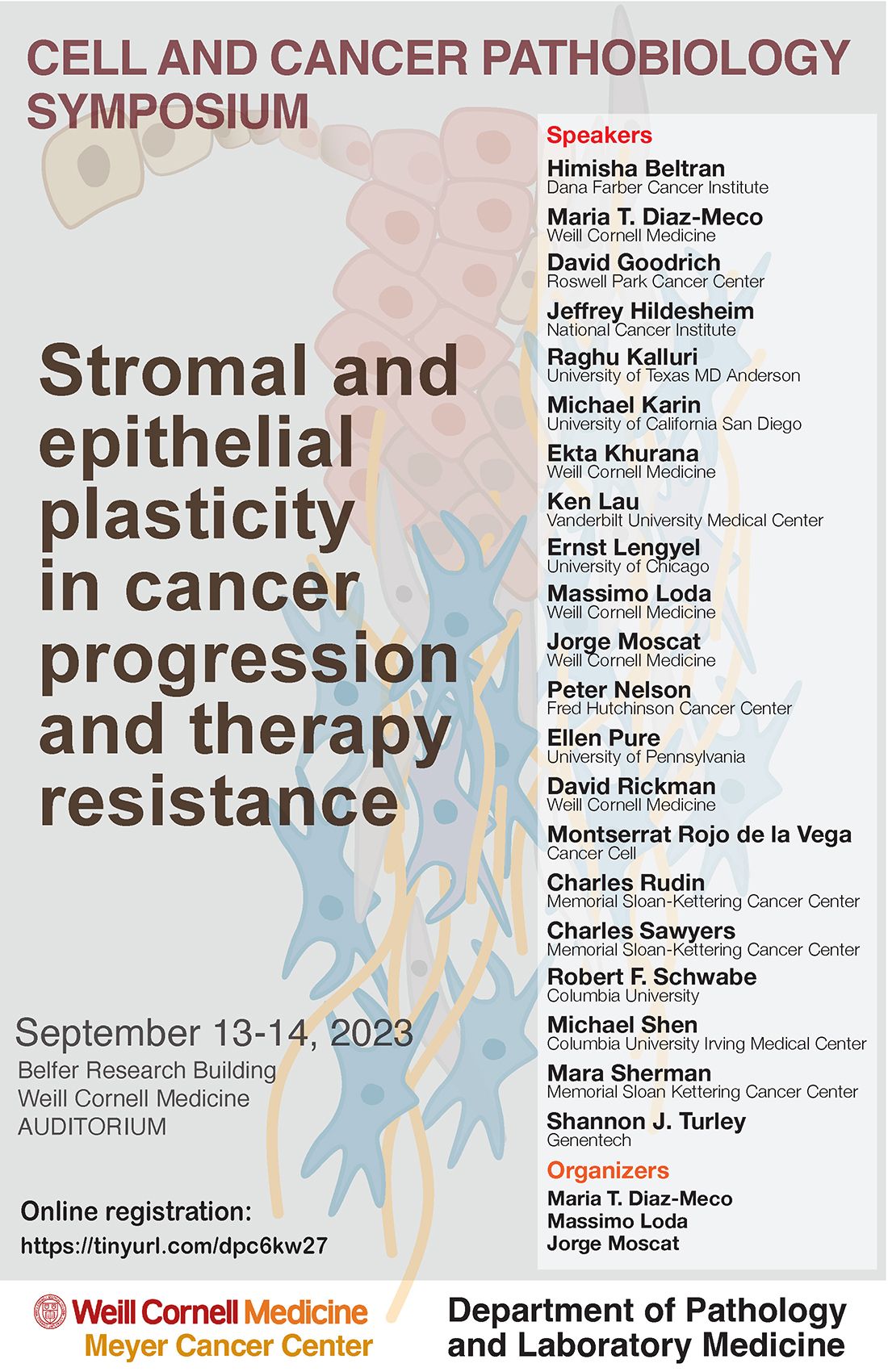 Click here to download poster.